Rigid Return Idler 'INBI'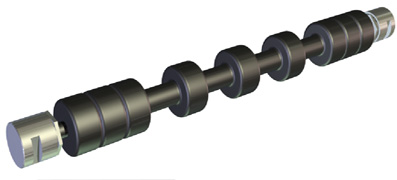 The characteristics of the RIGID RETURN IDLER "INBI", do that their use is recommended for all kinds of facilities and especially for facilities where they could present problems with the dampness and the chemical agents:
Foundry, steel mills, mining industry, salt industry, acids, sulfates, phosphates, fertilizers, chemical products, cement industry, etc…
They are made in black rubber antiabrasive and white rubber (for food industry).
CHARACTERISTICS
The exclusive design of the Rigid Return idler "INBI" provides new and innovative improvements inside its field of application.
The rigid return idler "INBI" is composed of an axis of steel. This axis is vulcanized close to the body of anti-abrasive rubber of the idler in only one piece, managing not to present any assembly between the axis, the covering of the axis and the wheels. This exclusive characteristic gives the idler infinity of advantages, which we can emphasize: water resistance, fewer breakdowns, longer life of the idler …
The hooks are made of ferritic malleable smelting and the bearings are lodged inside.
The bearings are lubricated and protected against the external influences by a grease with specific features to prevent the dampness and strange agents affect them.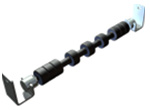 ADVANTAGES
Perfect adherence to the belt.
Great resistance to the corrosion.
Great resistance to the abrasion.
It prevents the adherence of the materials to the idler, avoiding in this way, possible damages and off-center of the belt.
It avoids the wear of the belt.
NEW DESIGN / MORE ADVANTAGES
Total watertightness. Exclusive design that avoids the penetration of the dampness in the metallic axis.
Design Monobloc of the body of rubber avoiding the displacement of the wheels.
Fewer mobile parts = fewer breakdowns = more life of the idler.
More adherence to the belt.
DETAILS
Contact our technical department for any questions or queries you may have.
Tlf: 944 572 125 / E-mail: cintrolsl@cintrolsl.com