Scraper/Belt Cleaner 'INBI' Serie-150 Model 'DST'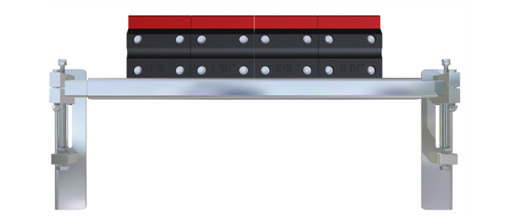 The scraper 'INBI' S-150 model 'DST' is a scraper for belts of two-way operation.
The positioning of this scraper is in the inferior part of the belt, to a minimal distance of 50 mm after the vertical axis of the drums

SERIE 150 Model 'DST' –

CHARACTERISTICS
The scraper blades are designed to work perpendicular to the belt.
The blades are in tungsten with a high degree of resistance to the abrasion and are assembled to a rubber support by means of screws, which does that their substitution is fast and simple.
The supports of the scraper blades are specially designed to give flexibility to the blades and absorb any vibration or impact that could be produced.
It assembles by segments of 150 mm. Every segment is an only piece of rubber that assembles easily in the axis of the scraper.
This one is made in shape that produces a flexion on the scraper blades in all the directions.
The support of the scraper. The fixation structure of the scraper is a robust piece designed in angle shape and which has a sliding guide to facilitate the positioning of the scraper.
The supports are designed to be able to extended it for every side. By this way, we will be able to adapt the scrapers to different widths of structure without modifications.
ADVANTAGES
Reduce the production cost.
Efficient cleaning due to the adaptability of the blades.
Avoid accumulation of material due to nonstick protector.
Adequate pressure guaranteed in all the belt width due to the design of the rubber supports.
Absortion of vibrations and impacts due to the rubber supports of the blades.
Easy installation.
Minimum maintenance.
Require small installation space.
It adapts to the structure dues to the extensible support design.
Easy positioning due to the slide of the support.
Easy adjustment.
APPLICATIONS
For belt width from 400 to 2000mm.
Scraper for belts of two-way operations.
Suitable to belts with smooth cover.
Belt speed <5 m/s.
Temperature range: –20º until +120ºC
It can not be used in belts with staples unions.
Available in ATEX version (explosive atmospheras).

Contact our technical department for any questions or queries you may have.
Tlf: 944 572 125 / E-mail: cintrolsl@cintrolsl.com